By: Kristin Knight
The 4th of July is always one of my favorite holidays because it's the perfect reason to be outside with friends and family. Of course, no 4th of July party is complete without delicious food and drinks.
Today, we have 3 quick and easy recipes to spice up your traditional barbeque!
I know this one sounds a little weird, but trust me — it tastes so good! This super fresh and beautiful side dish is a perfect addition to your menu.
Yield: 4-6 servings
Ingredients:
5 c (¾-inch) seeded watermelon cubes
1 ½ lbs ripe tomatoes, cut into 3/4-inch cubes
3 tsp sugar
½ tsp salt
1 small red onion, quartered and thinly sliced
½ c red wine vinegar
¼ c extra virgin olive oil
Romaine lettuce leaves (optional)
Cracked black pepper to taste
Directions:
Combine watermelon and tomatoes in a large bowl; sprinkle with sugar and salt, tossing to coat. Let stand 15 minutes.
Stir in onion, vinegar, and oil. Cover and chill 2 hours. Serve chilled with lettuce leaves, if desired. Sprinkle with cracked black pepper to taste.
Tips:
Using both yellow and red tomatoes makes this side dish even prettier.
I think this recipe has plenty of natural sweetness, so if you're looking for a healthier option, try using half or none of the sugar suggested.
PBS' Strawberry Lemonade
This fun twist to traditional lemonade is a great way to bring a festive feeling to your 4th of July party.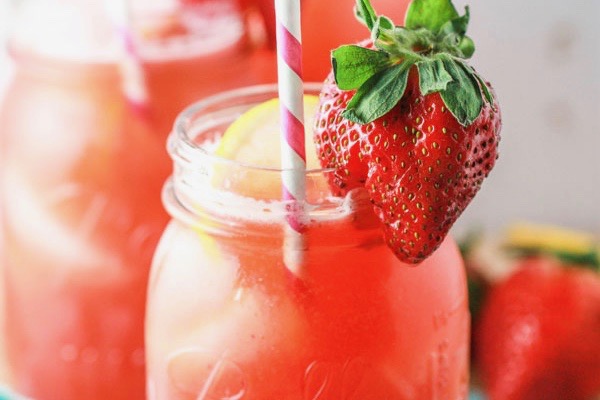 Yield: 6 servings
Ingredients:
1 c sugar
1 ¼ c fresh lemon juice (from about 6 lemons)
1 pint strawberries, hulled and sliced
24-28 oz of fresh cold water
Ice
Directions:
Bring the sugar and water to a simmer in a small saucepan. Stir so that sugar melts completely then remove from the heat and let cool to room temperature.
Place the strawberries in a blender and process until smooth. Pour pureed strawberries in the sugar water and stir well. Add the lemon juice.
Combine the strawberry lemon syrup and the cold water in a large pitcher. Stir well and add lots of ice.
Serve lemonade with thin slices of lemons and strawberries.
Tip:
Serve lemonade with blackberries and or blueberries for a more festive feel.
How cute are these cookies?
Yield: depends on what mix you use
Ingredients:
Sugar cookie mix (whichever brand you prefer)
¼ c red, white, and blue edible confetti stars
3 ½-inch and 1 ½-inch star-shaped cookie cutters
Directions:
Follow the package directions for preparing your dough.
Refrigerate the dough for at least 3 hours or overnight.
Take the dough out of the refrigerator and let soften until just pliable but still cool and firm, about 15 minutes.
Dust your dough and the surface you're working on with flour to prevent sticking. Then, roll out the dough to ¼ inch thick.
Cut out 3 ½-inch star cookies as close together as possible. Cut out the centers of the stars with a 1 ½-inch cutter. If the dough becomes too soft to cut out, place it in the freezer for 5 minutes to firm back up. Keep cutting out stars until no dough remains.
Transfer the large stars to one baking sheet and the small stars to another as they may bake differently.
Sprinkle the confetti on the cookies, gently pressing them into the dough.
Put the baking sheets back into the freezer for 10 minutes and then bake according to package instructions.
Tip:
Once the cookies cool, try drizzling them with melted chocolate for an added touch.
All of these recipes are super quick and easy. We hope you try them out and let us know what other 4th of July Recipes you love. From all of us at Campus Rec, we hope you have a very happy holiday!
Follow Campus Rec on Facebook and Instagram for more content!
Recent Posts
November 28, 2021

November 18, 2021

November 11, 2021