Outdoor Pursuits
OP trips are designed for participants of all ability levels! We are here to offer participants with quality backcountry experiences that provide fun, educational, and immersion into the wild spaces that surround our campus. So, whether you're a seasoned veteran or a true beginner, join us for what is sure to be a semester of great adventures!
To register, stop by the OP office on the 1st floor of the Wellbeing Center or register online at www.deaconrec.wfu.edu.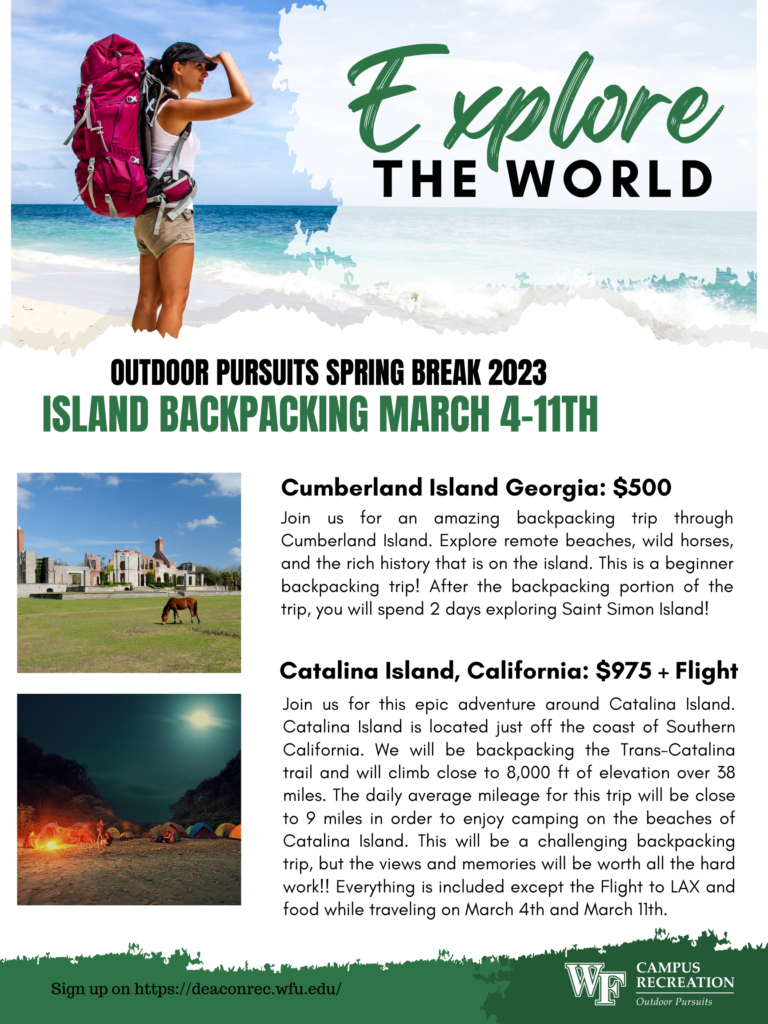 OP Trip Policies
Overall Trip Policies

In order to participate in an OP trip, you must have a trip specific liability waiver completed as well as have completed your medical questionnaire.
In order to participate in an OP trip, you must be able to present verification of personal health insurance coverage.
Payment of the trip cost must be made in full prior to scheduled departure for the trip.
NO illicit drugs or drug paraphernalia are allowed on OP trips in any fashion. Breach of this rule will result in an immediate expulsion from the trip and could result in University judicial consequences.

If the trip is taking place in a location which required airfare, the participant could be made to depart the trip and fly home early. This expense will be paid for by the participant.

NO Alcohol is allowed to be consumed during "activity" portions of the trip.

Any underage consumption could result in university judicial consequences.

All students participating in OP programs are expected to follow the university student code of conduct. Should violations of said code occur, participants risk expulsion from the trip and barring from participation in future OP programs.
OP does not condone hate speech, bullying, emotional or physical abuse, or racism on any of our trips. Use of such language or actions could result in expulsion from the program. We pride ourselves in a creating an inclusive community space where meaningful dialogues and personal growth can take place.
OP Trip Philosophy
OP Common Adventurer Philosophy

We want OP trips to be safe, fun and memorable.
Due to weather and other safety concerns, trip destinations are subject to change.
We work hard so that you can have fun, so please come with a happy, cooperative attitude.
OP practices strong Leave No Trace ethics. (LNT.org) Pack it in, pack it out!
We are open to ideas/suggestions for new OP trips. After all, they are for students!
We are very open to feedback! Let us know how we can serve you better. Be sure to complete the trip satisfaction survey you trip leader will email you after the trip.

Zero-Based Budget Philosophy

It is our goal to make trip costs as low as possible. We plan trips on a zero-based budget system and further subsidize trip costs wherever we can. The price of each trip includes transportation, trip leaders, equipment, food, and lodging.

YOUR TRIP PRICE INCLUDES

The price of your trip includes trip food, gear, transportation, and Trip Leaders.
We adjust all trip menu plans according to dietary restrictions.
Occasionally, groups will eat out while traveling. These meals are generally not included in the trip cost. Your trip leaders will inform you of any meals not included in the trip price.
If trips have additional costs associated with them, participants will be informed ahead of time.
Trip Registration & Cancellation Policies
Trip Registration Procedure

We have two ways to register:

OP Rental and Resource Center:

Come in person the OP office (1st floor of the Sutton Center) and check in with one of our staff members. Note that all of our trips are first come, first serve.

Online

Use our new online portal for trip registration. Just click the trips you want, complete the waiver and medical questions, and pay in full!

NOTE: You are not registered for a trip until you have come to the OP office and paid for your spot. All trips must be paid in full at the time of registration unless otherwise noted.

Cancellation and Refund Policy: OP does not provide refunds for trips unless we cancel the trip for some reason. Refunds will NOT be given for location changes as all trip locations are subject to change due to weather and safety concerns.

Payment Policy and Registration

In order to secure your spot on a given trip, you must pay for the full cost of the trip in person unless otherwise noted.

For some of our extended trips, there will be payment plans/deadlines established to make the trip expenses more manageable.

We accept credit and debit cards, check or Deacon Dollars. Checks should be made out to WFU Outdoor Pursuits, with the trip name and date in the memo line. Note: if you select Deacon Dollars, you are giving us permission to charge the amount of the deposit to your account.
REQUIRED FORMS: OP Med Form & OP Liability Form

Note: Med Forms are a 1 time form. Please bring your health insurance card to the OP office, or simply scan and email it to your trip leader.
A new Liability Forms must be completed for each trip you attend.

Wait-List Policy: If a trip is full, go ahead and sign-up for the waitlist. We will let you know if a spot opens up for you!