By: Kristin Knight
This holiday season, the Wellbeing Center Marketing Team compiled a list of our favorite holiday cookie recipes to share with you! 
Brown Sugar Pizzelles
From: Maya Dalton, Student Marketing Coordinator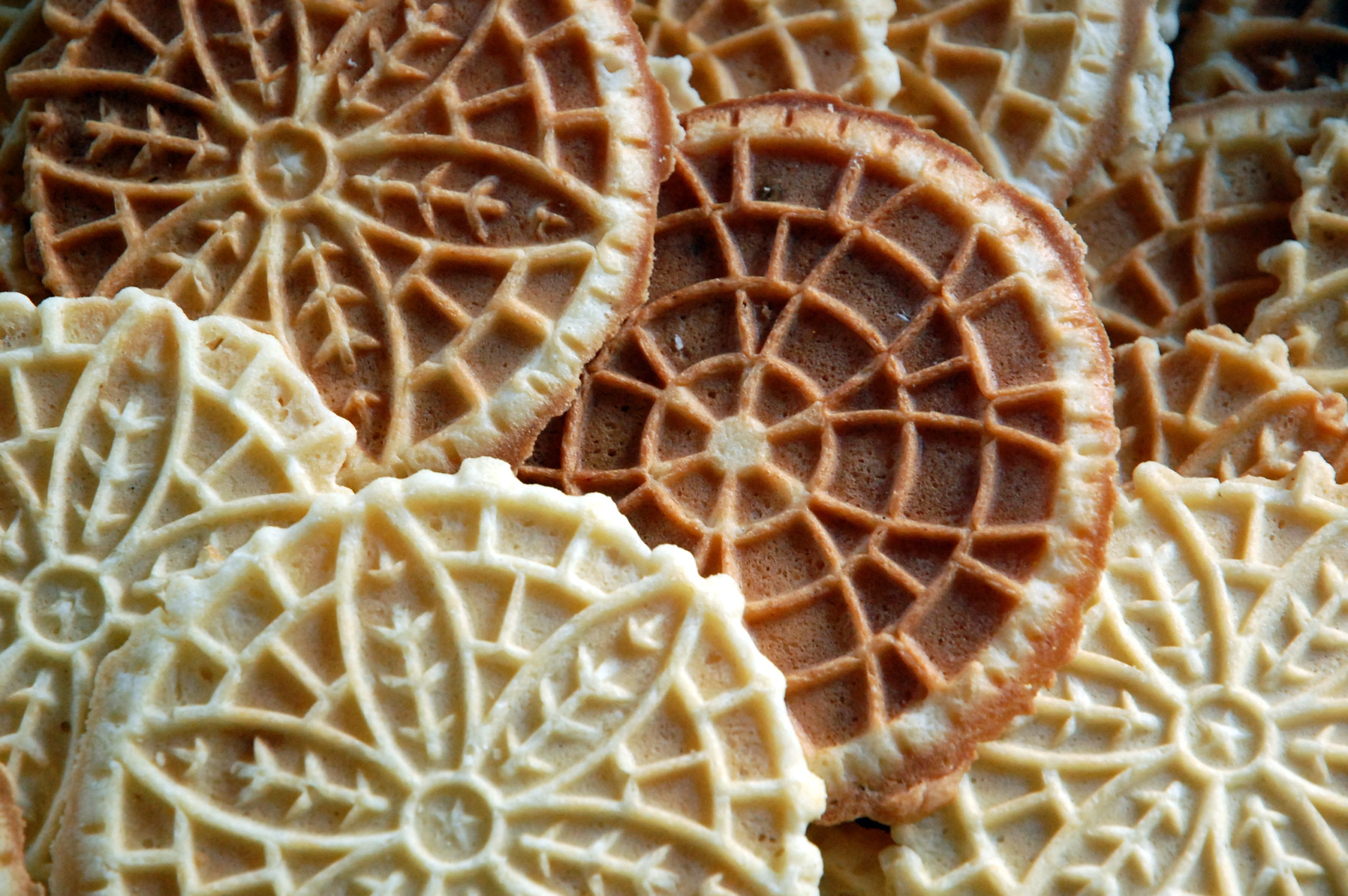 Ingredients:
1 c of brown sugar

2 sticks of butter

4 eggs

1 tbsp of vanilla extract

4½ – 5 c of flour

1 tsp of baking powder
Directions: 
In a mixing bowl, beat together brown sugar and butter. 

Add eggs, vanilla extract, flour, and baking powder and mix until a dough forms. 

Roll the dough into balls and put in the middle of a hand-held iron. 

Hold the iron over the burner on the stove for about 30 – 40 seconds per side. We use a specific

cookie iron

to make the pizzelle shape! You can also use an

electric version

, similar to a waffle maker.

Once they're done, allow the cookies to cool for 10 minutes before eating. 
What Maya loves about
Brown Sugar Pizzelles:
"I love this recipe because my NeeNee (my grandma) makes them throughout the year, not just in the wintertime. They also keep pretty well, so after every break during the school year, she'll send a bag back with me to share with my suitemates and friends. In the winter, they're a great sweet treat with hot chocolate or coffee!"
Brown Butter Chocolate Chip Cookies
From: Riley Herriman, Photographer
*This is recipe is from Tasty.

Ingredients:
1 c bread flour

¾ cup all-purpose flour

2 tsp kosher salt, or 1½ tsp table salt

1 tsp baking soda

1 c unsalted butter (2 sticks)

2 tbsp water, room temperature

1 c dark brown sugar

½ c white sugar

2 tsp vanilla extract

1 tsp espresso powder

1 large egg

1 large egg yolk

½ c semi-sweet chocolate chips

5 oz dark chocolate, chopped
Directions:
In a medium bowl, sift together the flours, salt, and baking soda. Set aside.

In a medium or large saucepan, add the butter and melt over medium heat. The larger the pan you use, the quicker the process will be!

Bring the butter to a boil, stirring frequently. As the water begins to boil out of the butter, the milk solids in the butter will separate, sink to the bottom, and begin to toast and brown. As this begins to happen, make sure to stir constantly so the butter browns evenly. It may become quite foamy, splatter a bit, and be difficult to see, so keep a close eye on it, removing from heat and continuing to stir if it starts to foam over.

Once the butter has turned a nice nutty brown, remove from the heat and pour into a large liquid measuring cup to stop the cooking. Allow it to cool down for a minute or two, give it a stir, and carefully add 2-3 tablespoons of water to the butter to bring it back up to 1 cup of liquid.

Set aside to cool to room temperature. To help speed this process up, you can place in the fridge for 10-15 minutes. You want to make sure the butter is still liquid when you're adding it to the dough later on, so make sure to remove after 15 minutes.

In a large bowl, add the sugars, vanilla, espresso powder, and cooled brown butter. Cream together with an electric hand mixer until light and fluffy, 1-2 minutes.

Add the egg and yolk and beat until incorporated.

Add the dry ingredients, about ⅓ of the mixture at a time, and beat between additions until just incorporated. It's okay for there to be a bit of unmixed flour on the edge of the bowl, this will be incorporated in the next step.

Using a wooden spoon, fold the chocolate chips and chunks into the dough

Scoop the cookies onto a parchment paper-lined baking sheet in 3-tablespoon-sized mounds.

For optimal flavor, cover and refrigerate for 1 hour or, even better, overnight.

Preheat the oven to 350

°F

.

Evenly space the dough 3 inches apart from one another on a parchment paper-lined baking sheet.

Bake in a preheated oven for 12-14 minutes.

Let the cookies cool on the baking sheet for 2-3 minutes before transferring to a cooling rack to cool completely.
What Riley loves about Brown Butter Chocolate Chip Cookies:
"Browning the butter takes a good amount of time, but it completely changes the flavor of the cookies and makes them immensely flavorful. I've had a lot of fun cooking these with friends and family and sharing them with others!"
Forgotten Meringues 
From: Drew Skilton, Graphic Designer

Ingredients: 
5 egg whites 

¼ tsp cream of tartar 

1½ c sugar
Directions:
Preheat your oven to 450 °F. 

In a large bowl, beat egg whites and cream of tartar until foamy. 

Gradually add sugar and beat until thoroughly blended. 

Pile into swirled mounds on a cookie sheet. 

Place meringues in the oven and immediately turn off the heat. 

Allow the oven to completely cool before removing the meringues. Leaving them in overnight is the easiest way to ensure the meringues are completely set. 
What Drew loves about Forgotten Meringues:
"My grandmother always makes them after a day hiking through the snow on winter break. They're very nice with a cup of hot chocolate. I wish I was enjoying them now instead of studying for finals."
Dipsy Doo Bars
From: Kristin Knight, Blog Content Creator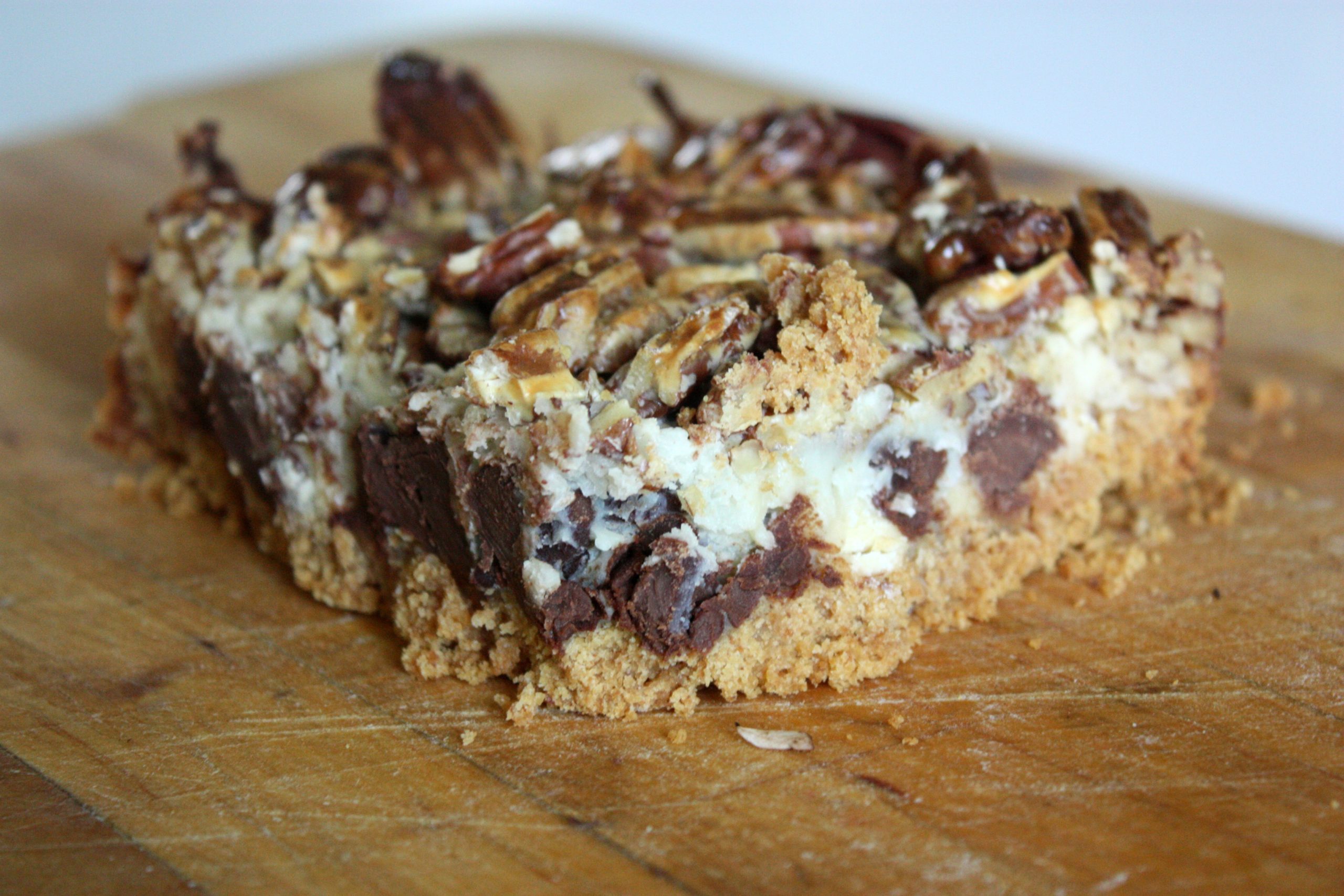 Ingredients:
½ c butter or margarine

2 c graham cracker crumbs

1 c butterscotch chips

1 c package chocolate chips 

1 c flaked coconut

1 c pecans or walnuts, chopped

1 can sweetened condensed milk
Directions:
Preheat oven to 325 °F. 

Melt butter in 9×13 inch pan and then sprinkle with graham cracker crumbs. Press into pan to form a crust.        

Mix remaining ingredients in a bowl and pour over the crumb layer.

Bake at 325 °F for 30-35 minutes, or until just turning light brown on top.

Cool then cut into pieces to serve. 

Refrigerate or freeze.
What Kristin loves about Dipsy Doo Bars:
"I love that these cookies have so many different names! Most people call them '7 Layer Bars,' but I've also heard them called 'Magic Bars' and 'Hello Dolly Bars.' My family has always called them Dipsy Doo Bars for some reason."
Happy holidays, Deacs! We hope your winter break is full of laughter, relaxation, and plenty of sweet treats!
Follow Campus Rec on Facebook and Instagram for more content!
Recent Posts
November 28, 2021

November 18, 2021

November 11, 2021