The Student Marketing Team's Favorite Winston-Salem Restaurants
Main Content
By: Bailey Larmore
Have you explored the Winston-Salem food scene? The Student Marketing Team at the Wellbeing Center has collected a list of their favorite restaurants for you to check out. We encourage you to try delicious, new foods while supporting local businesses. If you like the food trucks that visit campus, we think you'll really enjoy this list!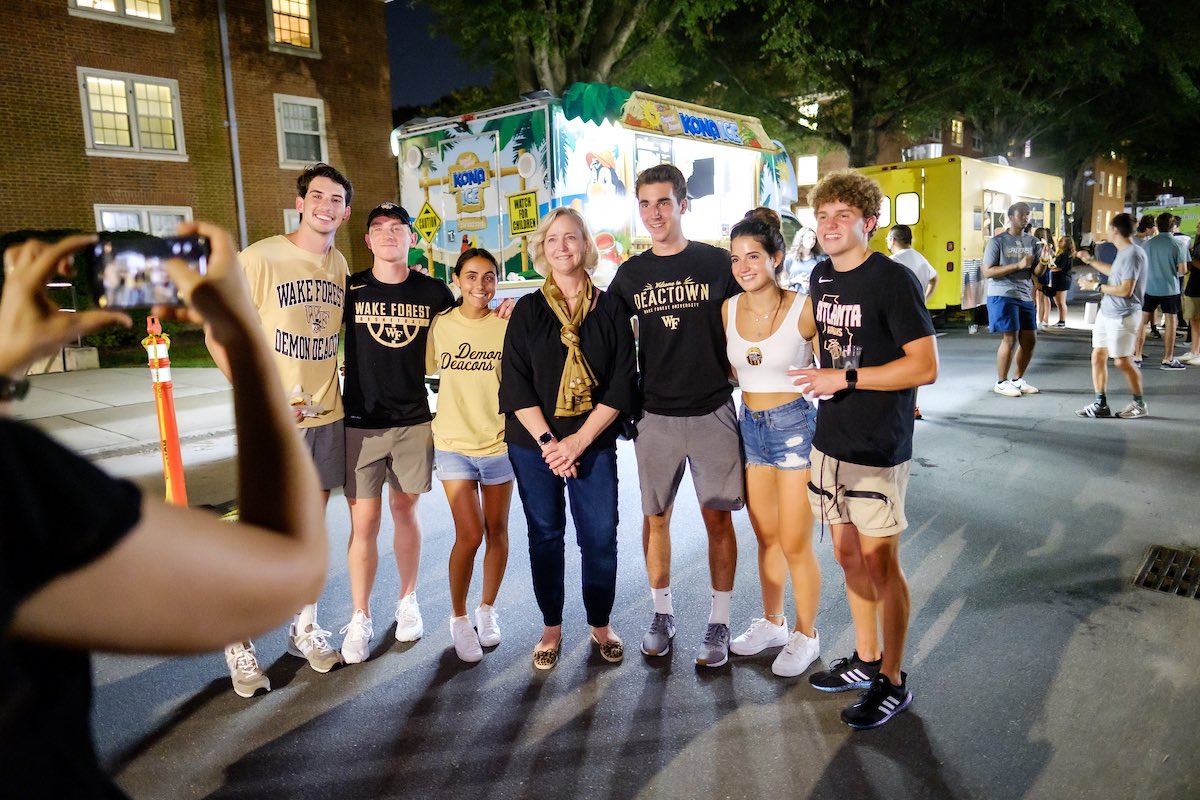 Penny Path Café & Crêpe Shop
From: Emily Bebenek, Assistant Student Marketing Director & Maya Scully, Graphic Designer
Penny Path, with its location in Reynolda Village, is only a short walk from campus! Emily and Maya enjoy the dessert crepes, and Emily can't stop talking about the crepe with Nutella, strawberries, and bananas. With a wide range of crepes to choose from, what's not to love?
Bonus: As the weather gets cooler, you can find a grilled cheese crepe served with homemade tomato soup. We can give a big thanks to Maya Scully for this pro tip!
Nawab Indian Cuisine
From: Selinna Tran, Graphic Designer
Nawab is the place to go if you want to have delicious Indian food. Selinna says the garlic naan is "indescribably amazing!" As you order, you can choose how spicy you'd like your meal (on a scale of 1 to 5). The casual atmosphere and friendly workers make this restaurant a favorite for Wake students. 
Mellow Mushroom
From: Khushi Arya, Web Content Manager
Have you found the best pizza spot in Winston? According to Khushi, the highly debated title of best pizza place goes to Mellow Mushroom! A visit to this restaurant includes mouth-watering pizzas, affordable prices, and a fun atmosphere. Sharing a pizza is great for bringing friendships closer together!
Village Tavern
From: Marina Velasco, Web Content Manager
Marina's favorite dish at Village Tavern is the Godiva cake! She enjoys this restaurant because it reminds her of a meal she had with her parents. When visiting Village Tavern, Marina thinks about this happy memory from when she first arrived on campus. 
Bonus: The nature surrounding the restaurant makes for a great view!
Mozelle's
From: Sammy Clark, Graphic Designer
Located on 4th Street, Mozelle's is a popular dinner and brunch spot. Sammy recommends Mozelle's because of the cozy environment and flavorful southern-inspired food. She loves the edamame hummus and the coconut pie! 
The Katharine
From: Maya Dalton, Student Marketing Coordinator
On special occasions, Maya enjoys going downtown for a meal at The Katharine. She recommends trying the raw oysters or the steak. Maya's restaurant pick can be great for a date night or a meal with your family. 
We'd love to hear your favorite places to dine in Winston. Let us know if you try any new restaurants! 
Follow Campus Rec on Facebook and Instagram for more content!