By: Kristin Knight
Looking for an exhilarating full body workout? Try your hand at indoor rock climbing! The recently reopened climbing wall features 10 rope climbing lanes, a host of climbable surfaces for dedicated bouldering, and two belay ledges for instructional classes. Trained staff will help you get started and provide you with climbing shoes, chalk bags, and harnesses free of charge. Best of all, climbing is an amazing workout!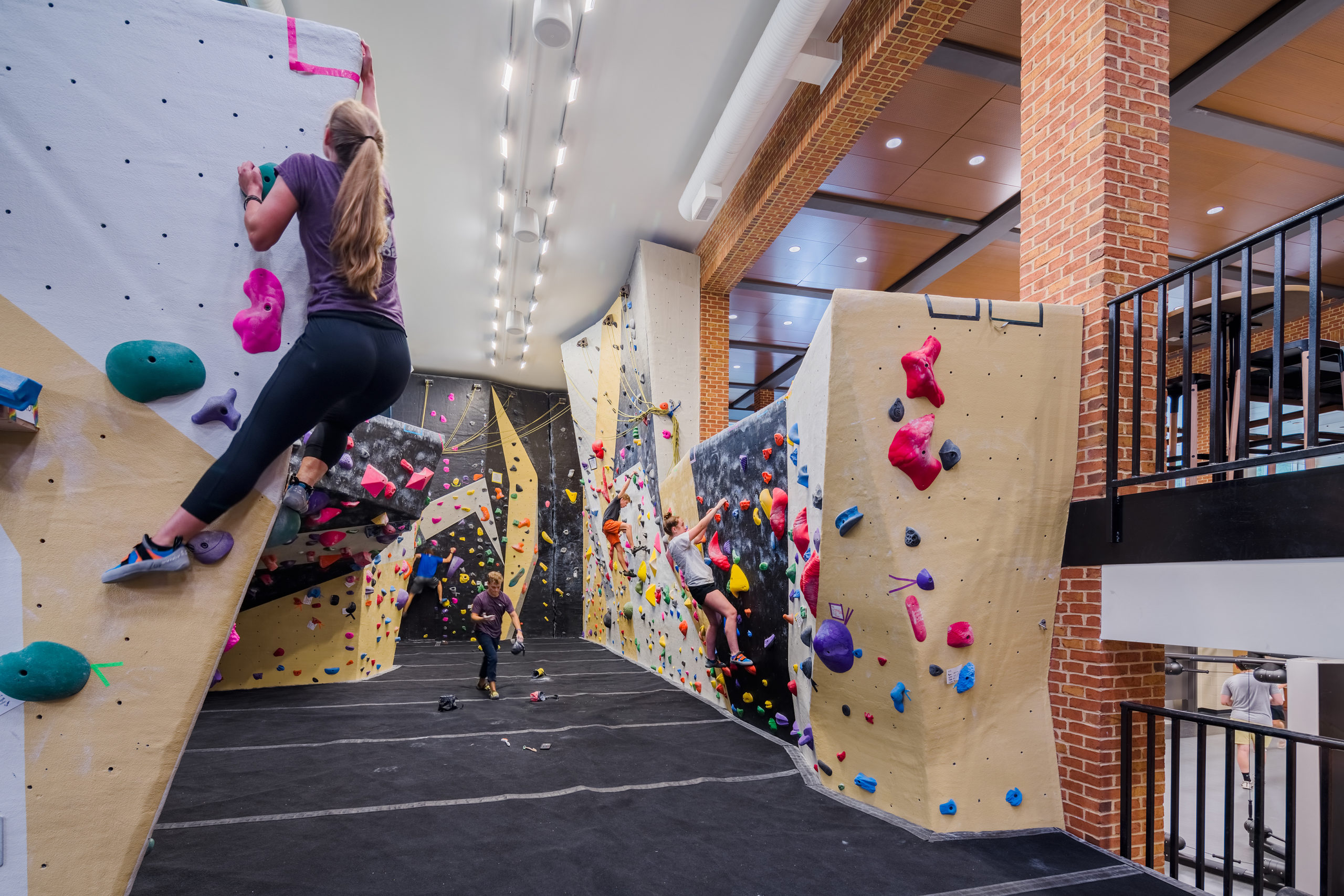 Exercise your whole body
From your fingertips to your toes, climbing works nearly every muscle in your body. Pushing with your legs, activating your core, and reaching a full range of movement with your upper body is a great workout. Furthermore, improving your grip strength and strengthening your forearms can help prevent carpal tunnel syndrome. 
Boost your concentration
Climbing requires you to be very aware of your body in the space around you. Before each move you make, you must know exactly where all of your grips are and where you're going. Being intensely focus on the moment can also alleviate stress about anything else going on in your life. 
Develop problem solving skills
Unlike running on a treadmill, climbing takes a lot of strategy. Figuring out your next move over and over again helps develop your problem solving skills. Especially on more difficult courses, you constantly have to weigh the benefits and drawbacks of each potential move before deciding on a course of action. 
Get out of your comfort zone
Scaling a climbing wall can be very uncomfortable for some people, but being willing to try something new can help build your confidence. Additionally, climbing also helps build your perseverance. No matter how daunting it may seem, you'll be motivated to reach the top.  
Hopefully you'll consider trying out the climbing wall for your next workout! Check out the website for hours of operation and wall policies. 
Follow Campus Rec on Facebook and Instagram for more content!
Recent Posts
November 28, 2021

November 18, 2021

November 11, 2021